Posted on
By Editoral Office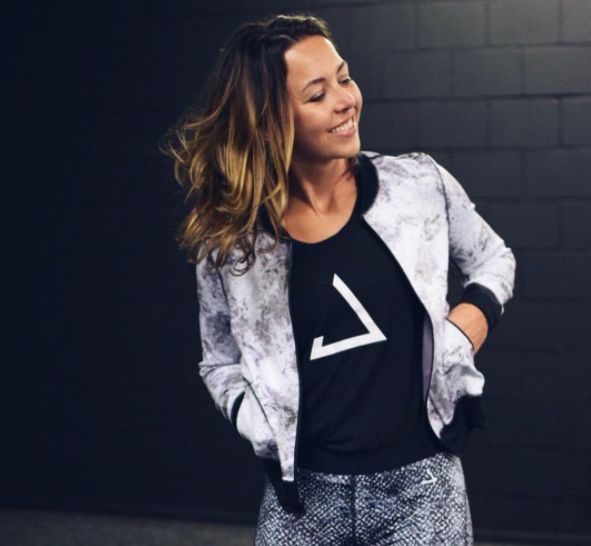 We have made a new workout for you! Just like last time, you can do it from home, using your own bodyweight and endurance. Together with Roos (@dokter.roos), we created a full body workout that you can easily do from home. Legs, butt, arms, belly, we're going to train every part of the body!
LEGS & BUTT
Hip Thrust
Performing hip thrusts focuses directly on the butt. Round butt here you come!
This is how you do it:
1. Sit on the floor and if needed, lean against a bench.
2. If you'd like to make the exercise more challenging, place a weight on your upper legs.
3. Next, raise your hips up as far as possible and squeeze your butt muscles together!
4. Slowly bring your hips back down till you return to your starting position.
Repeat 20 times.


Jumping Lunges
Jumping Lunges are a more challenging variant of the normal lunge. Besides training your legs, you are also training to improve your balance and doing a little cardio as well.
This is how you do it:
Place one leg in front of you and one behind you. Bend your hind leg a little bit and keep your back straight.
Use all your strength to jump and switch your legs during the jump.
Repeat 20 times.

ARMS & SHOULDERS
Bent over row
The bent over row actually trains multiple muscle groups at the same time, including your back and your biceps.
This is how you do it:
Use two dumbells or two bottles of water if you don't have dumbbells at hand.
Place your feet shoulder width apart while keeping your knees slightly bent. Keep your back straight.
Bring the weights up till chest height and keep your arms bent.
Drop the weight to beginning position.
Repeat 20 times.
Arm extension
This is THE exercise for your triceps!
This is how you do it:
Take a weight and hold it with both hands above your head. Keep your arms straight.
You can do this exercise either sitting or standing. If you choose to perform it standing, ensure that you keep your knees a little bit bent.
Slowly bend your arms behind your head.
Now stretch your arms until they are above your head again.
Repeat 20 times.
BELLY
Side plank
This is a variation of the original plank; the perfect exercise for your obliques.
This is how you do it:
Grab your mat and go lay down on your side, keeping your elbows directly under your shoulders.
Make sure that your body forms a straight line and that you keep your head up.
Tighten your abs and hold this position for 1 minute.
Want to make it harder? Lower your hips to the floor and back up again, slowly.
Leg raise
A super nice exercise for your lower abs. With this particular exercise, it's important that you keep your back on the ground and don't make it hollow.
This is how you do it:
Go lay down on your back and place your hands below your butt for support.
Straighten your legs and raise them in a fluent movement up until you create a 90 degrees angle.
Bring your legs back down until your feet are hovering a little bit above the floor.
Don't do this too quickly. And remember, tighten your abs!
Repeat 20 times.
CARDIO
Burpees
Cardio, here we go! We're starting with a hard one (but it's seriously the best).
This is how you do it:
Go stand up straight
Bend your knees as if you are doing a squat and then place your hands on the floor.
Jump and extend your legs behind you so that you're in a plank/push up position.
Perform one push up
Jump back to a standing position and jump up.
Repeat 20 times.
Tighten your abs and make this a powerful movement!

Jumping Jacks x squat
This exercise sounds easy, but is actually harder than you think. It's a combination of cardio and a little bit strength.
This is how you do it:
Stand with your knees touching and with your arms at your side.
Jump and spread your legs out and raise your arms up above your head.
Jump back to the starting position and do a squat.
Repeat this for 1 minute.
All exercises done? Repeat the entire circuit for another 2 rounds and then your workout is done!
Afterwards you can do some stretches.
This workout is put together with Dokter.Roos