Once every two weeks we will highlight a print from the Supernova Collection. It's up to one of our awesome Jogha Girls to explain why they have selected this particular print, and to reveal their thoughts on the design and underlying message!
This week, Jogha Girl Lara (@lilchen_1) shares her thoughts on the Impulsive print!

1. Why have you selected this particular print?
For me, the Impulsive print has a very 'summery' feel. The grey and black stand for power and strength, whilst the dynamic design and bright colors symbolize femininity. And don' t we all want to feel powerful yet feminine? It was an easy choice!
2. What aspect of the print appeals to you (design-wise)?
I like the design because of the little circles, in combination with the bright colors and black aspects that compliment your figure. For me the "apricot" symbolizes the girly side of us women, and it's a lovely fresh color (perfect for summer).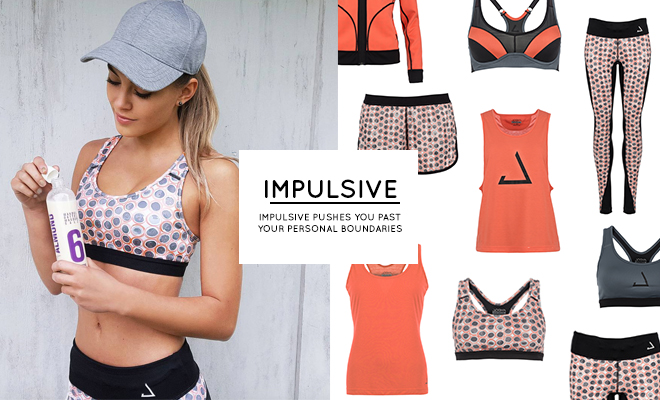 3. How do you personally relate to the underlying message of the print?
I totally love the underlying message of the print! It perfectly represents the first step all of us have to take to get fit and feel happy. Don't be a couch potato, even if you do not feel like being active! Stand up, push yourself and get shit done. You have to move out of your comfort zone in order to achieve your goals.
4. In what way does the print/design motivate you sports-wise?
I think it makes practicing sports more fun and a bit easier if you wear something that makes you feel confident! Boring clothing does not motivate at all… And if you feel good in what your wear, you are much more motivated to train and kick some ass!
5. How do you combine the print?
You can wear it as a set (bra & legging) or combine the Impuslive item with a tank top or a long sleeve in just one color without pattern (the corals are very nice!). When it's a little bit fresh outside I like to wear a sweater or a jacket with the leggings. Just something to keep me warm! Also, the leggings do not feel that much like active-wear. I am not bothered at all to wear them with a leather jacket or a nice sweater.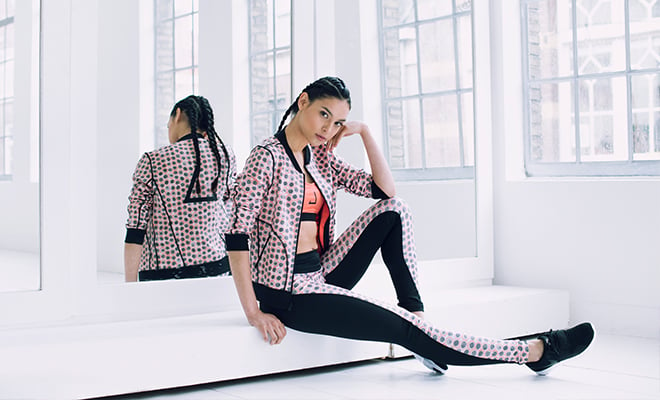 Are you a fan of the Impulsive print as well? Then it's your lucky day! You can now score your favorite Impulsive items and matching coral solids with a 30% discount. So, hop hop to the Jogha shop, and treat yourself with a brand new workout look!