Once every two weeks we will highlight a print from the Supernova Collection. It's up to one of our awesome Jogha Girls to explain why they have selected this particular print, and to reveal their thoughts on the design and underlying message!
This week, Jogha Girl Susanna (nwlife.at) shares her thoughts on the Reckless Print!

1. Why have you selected this particular print?
I choose this print at first because I absolutely like the colours black, grey and white. Besides that, I think that every woman has a strong personality, and in my eyes, this print underlines a powerful character.
2. What aspect of the print appeals to you (design-wise)?
I love the mix of the dark colours with some white shine mixed inside. The way the print is designed on the leggings also makes the shape of your leg look good, and it not only looks sporty, but also fashionable.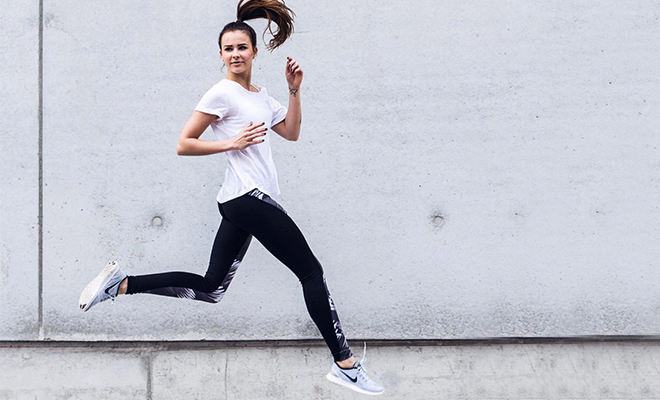 3. How do you personally relate to the underlying message of the print?
I totally love the idea behind it, especially because women are often marked as weak in the sports industry and often don't get as much attention as men. So the message that focuses on strong women, and also sharing this message with the world is such a great idea and also a big step for females everywhere.
4. In what way does the print/design motivate you sports-wise?
Usually I prefer to wear shorts when I'm doing sports, but as long I have my new leggings on from this collection, I LOVE it. The print is very invigorating and that also motivates me to do sports and be active.
5. How do you combine the print?
Because the print is very loud and very impressive, I like to combine it with something clear and simple like white nikes and a white casual shirt.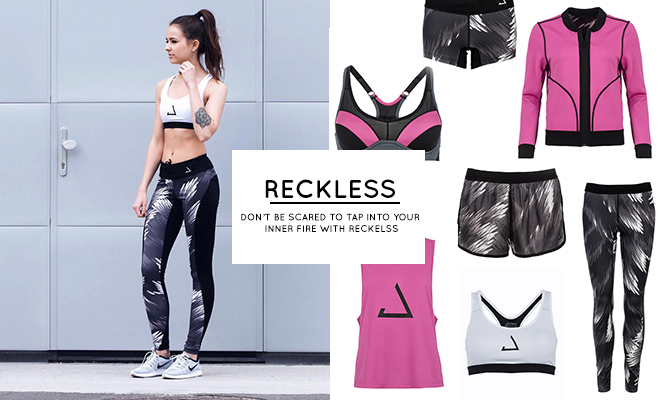 Are you a fan of the Reckless print as well? Then it's your lucky day! You can now score your favorite Reckless items and matching pink, black and white solids with a 40% discount. So, hop hop to the Jogha shop, and treat yourself with a brand new workout look!