Posted on
By Editoral Office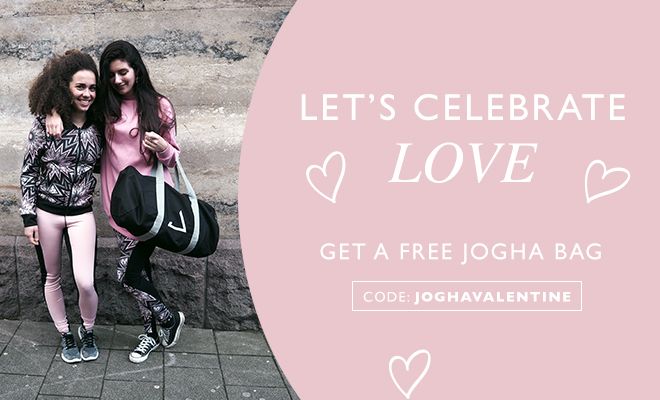 It's almost Valentine's Day! The day where you give some extra love and attention to your loved ones. And why not spoil yourself a little bit on this day too? Especially for anyone who wants to give themselves a gift this year, we have a nice Valentine's Day offer for you.

When you make a purchase above €50,- you will receive our awesome gym bag (worth €29,95) for free right along with it. Maybe you can give it to your sister or your favourite sports buddy, but of course you can also choose to keep it for yourself. The bag is a super handy allrounder: it is light weight and the capacity lets you fit a whole lot of items into it. That's why you can not only use it to go to the gym, but it's also perfect for a weekend getaway. So go and get your new workout gear you've been dreaming about for weeks now, put the gym bag in your shopping bag and use the code JOGHAVALENTINE to get the bag for free. This offer is valid untill 14th of February.
And in the spirit of Valentine…
Loves comes in many forms, with your boyfriend, girlfriend, best friend, sister and so on. We want to share this love, so tag your BFF on social media. This Valentine 's Day, we'd love to share your beautiful pictures in Jogha on our social media channels. Use the hashtag #joghafriends and let us know why your BFF is the best one in the world. You can also send an email to shop@jogha.com if you prefer.