You can't have a complete sports outfit without a good, supportive sports bra. Finding the perfect sports bra for you depends on many factors. In this blog, we will explain what the differences are between our Racerback bra and Sports bra - and how to know which one of them will suit you best.
Racerback Bra
This bra comes in several solid colors and prints that we have in our collections. It consists of three layers of fabric: an outer layer, a layer of mesh for support and also an inner lining. The bra comes with cups, but if you'd rather work out without these, we've designed it so you're able to take them out through a small 'tunnel' on the side of the bra. In order to ensure that the Racerback Bra stays in place while you workout, there is also an elastic band at the bottom.
Left: model has bra size 75C and wears Racerback bra size XS
Right: model has bra size 75B and wears Racerback bra size S
Sports Bra
Instead of solid colors, the Sports Bra is only available in a color block of the solid colors from the collection. It has a very strong cup which is not possible to remove. Based on feedback we received from our customers about the previous collections' Sports Bras, the current bras from The Infinity Collection have been adjusted. They now have slightly larger cups, while still offering the same amount of support. At the bottom, between two layers of the fabric, you'll find an elastic band which ensures that the bra remains in place. Because the Sports Bra has no bracket, you can keep moving smoothly during your workout.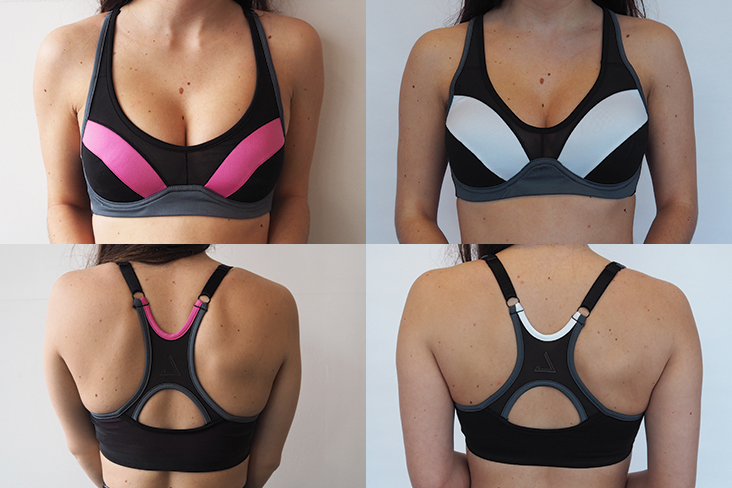 Left is from the old collection
Right is from the new collection
Model has bra size 75B and wears sports bra size S.
Which one suits you the best?
First, it is good to look at what type of sport it is that you want to practice. Are high intensity sports like running, CrossFit and bootcamp on your schedule? Then it is good to go for the Sports Bra, because of all the support it can supply you. Do you prefer a quieter sport like yoga, body balance and fitness? Then the Racerback Bra can be your best friend! In fact, this bra will give you the freedom you need, while also giving you sufficient support. It is also important to look closely at your body. Do you have a larger cup size and need a lot of support in your regular life? Then the Sports Bra is the best option for you.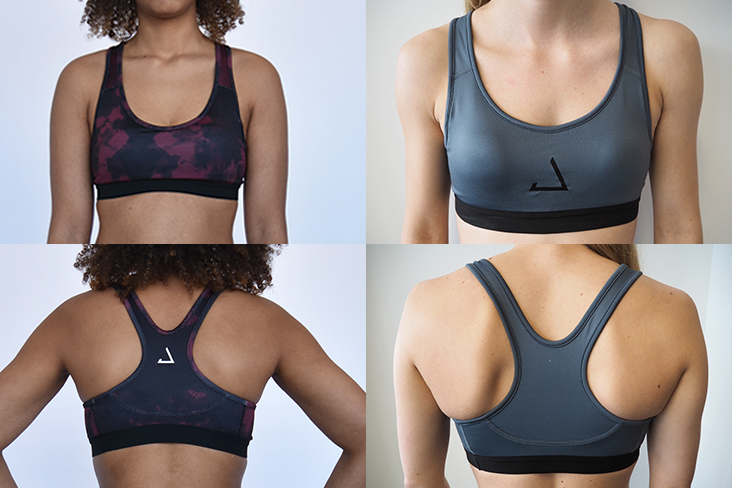 Left: model has bra size 75B and wears Racerback bra size S
Right: model has bra size 75B and wears Racerback bra size S
What size do you need?
Buying a bra is always difficult to do online, because it is very important that it fits your body well and this is sometimes difficult to figure out unless you wear it yourself. Fortunately, we have - in addition to the measurements table - some handy tips for you for when purchasing one of our bras.
• The Racerback Bra fits slightly wider. If you're having some doubt between sizes, then go for the smaller size.
• Larger cup sizes fit into the Racerback Bra. But, still pay attention to the type of sports you are doing and make sure that it will give you enough support.
• The Sports Bra will provide the support you need. The bottom of the bra is quite narrow, so if you enjoy having more freedom and space, you can take a size bigger. For high intensity exercise, we do advise you to order your normal size, so that the bra can support your breasts and chest muscles well.
• The Sports Bra is suitable for cup sizes AA up to D. Cups in sizes XS fit smaller than in size S / M / L.
Click here to see all the sport bra's.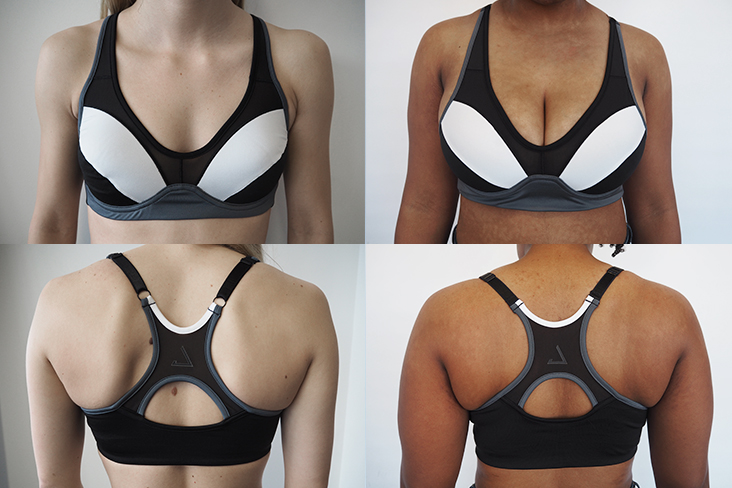 Left: model has bra size 75B and wears Sports bra size S
Right: model has bra size 80D and wears Sports bra size L

If you have any questions about what bra is best for you or about the dimensions, then send an email to shop@jogha.com and we'll be glad to help!